Sonic Healthcare UK was proud to support the World Doctors Orchestra's recent programme. The concerts took place at The Apex in Bury St Edmunds and at the Barbican in London at the start of October.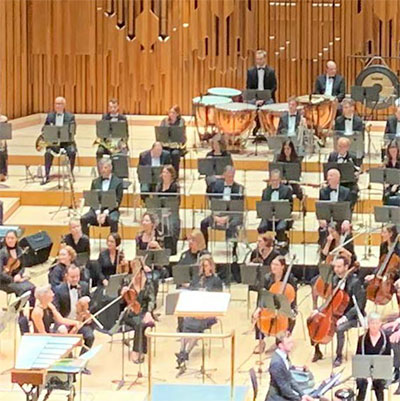 The WDO first assembled in 2008, and has since grown in numbers: there are currently around 1,500 physicians in the orchestra from over 60 countries, and they perform three times a year with around 100 doctors playing in each concert. The volunteers are driven by a collective passion for music, of course, but also by "the conviction that neither national borders nor political or economic interests should limit access to adequate healthcare". The organisation is an independent non-profit association, and each of their events raises money for medical aid projects that promote healthcare as a basic human right.
Proceeds from the concerts all went to Pathway, the UK-based charity that aims to improve healthcare for people experiencing homelessness.
The WDO was particularly honoured by the participation of world renowned percussionist, Dame Evelyn Glennie, who performed with them.
Alex Bax, Chief Executive of Pathway, provided information about the charity and how the money raised from the concerts will be spent:

"Pathway is a unique national charity initially established at University College Hospital NHS Trust back in 2009. We have two linked purposes: to improve health and care outcomes for people experiencing homelessness and on the margins of society; and to harness the power of the evidence we generate, frontline clinical voices and the perspectives of our Experts by Experience to make the case for the wider social changes needed to end homelessness.
"Pathway works within and alongside the NHS to develop and test new models of care and to support front-line clinicians working in specialist homelessness services. We have led the creation of 14 specialist 'Pathway' homeless teams in 14 hospitals across England.
"Pathway also created and hosts the Faculty for Homeless and Inclusion Health, a nationally recognised, multi-disciplinary network that brings together over 1400 specialist 'inclusion health' practitioners. Through the Faculty we have published three editions of service standards for homeless health, setting benchmarks for good quality care for the most excluded.
"We were honoured to be chosen by the World Doctors Orchestra as the beneficial charity for their first concert since Covid19 struck. The atmosphere at the Barbican on the night was electric, and the funds raised, over 100,000, absolutely astonishing. We have decided to invest this money in building up our Pathway Fellows programme.
"Pathway Fellows are early or mid-career clinicians working in homelessness, whom we already recognise for their dedication to improving care. A hepatologist is exploring how to intervene in street drinking cultures, one GP is working on end of life care and homelessness, another on the vicious circle between addictions and women forced into sex work, a physiotherapist is looking at musculoskeletal pain and life on the street, a dentist is looking at new ways to create access for homeless patients. We've long wanted to invest in building them up as the future leaders and change makers in inclusion health.
"With part of the funding, we plan to offer a series of small developmental bursaries over the next two years to give junior Fellows space to develop new thinking or new ideas for services. Alongside this investment in practical innovations, we will create a structured leadership programme to build up our Fellows' skills and confidence in challenging the system and asking for more for their patients. We believe that in any system people make change happen. Thanks to everyone who through their generosity has helped us to take our work to the next level." 11