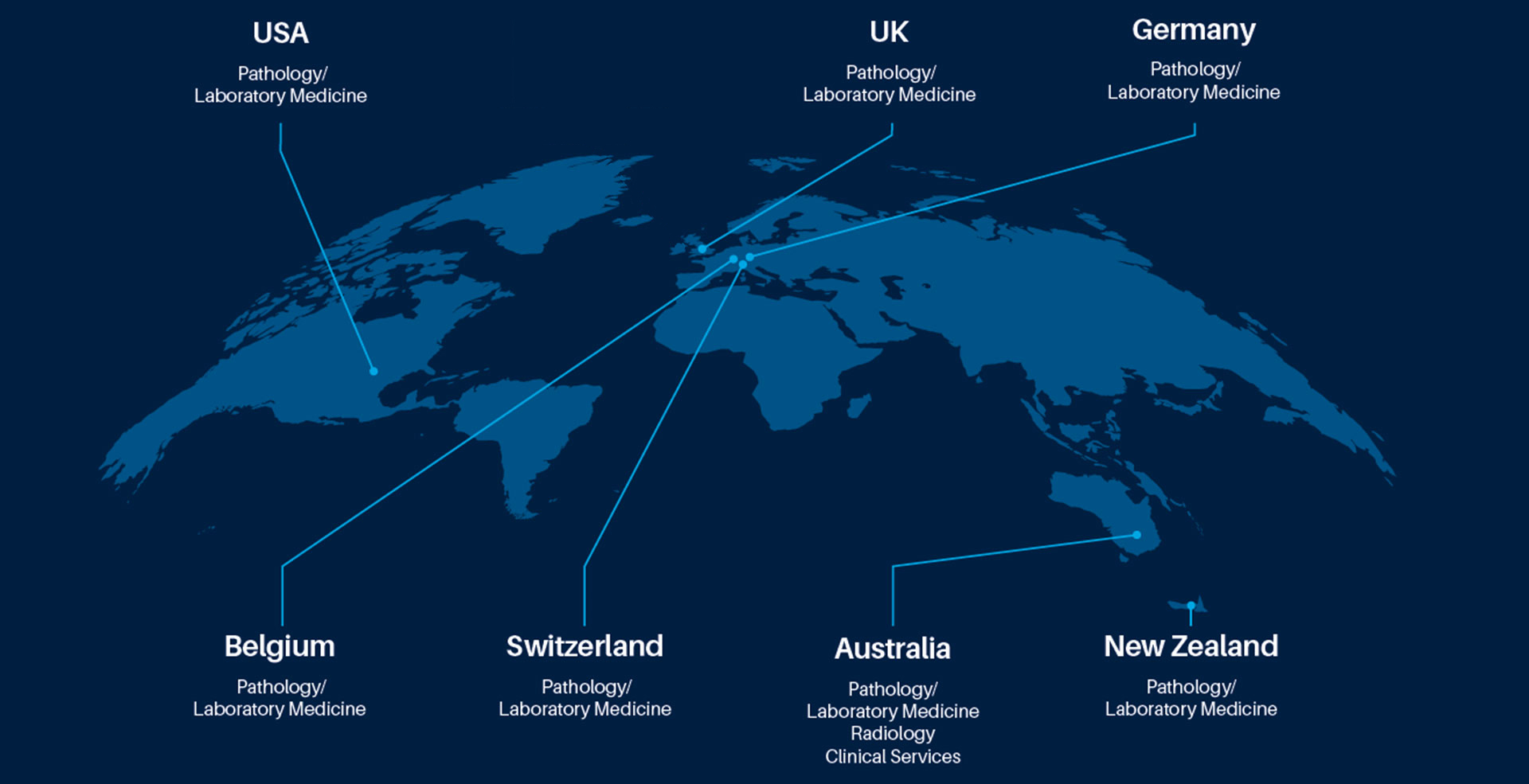 Sonic Healthcare
Sonic Healthcare UK is part of Sonic Healthcare, an internationally renowned healthcare provider with specialist operations in laboratory medicine / pathology, diagnostic imaging / radiology, general practice medicine and corporate medical services.
Headquartered in Sydney, Australia, Sonic Healthcare has grown to become one of the world's leading healthcare providers, with operations in Australasia, Europe and North America.
Across the global organisation, Sonic employs more than 1,500 pathologists and radiologists, and more than 10,000 medical scientists, radiographers, sonographers, technicians and nurses, all of whom are led by highly experienced medical personnel, from Board level through to the management of our local practices.
We are committed to excellence in the delivery of medical services to doctors and patients alike. This belief informs every aspect of our company, including our Medical Leadership and people-focused culture that views our staff as our most valuable asset.
Medical Leadership
At Sonic Healthcare, we understand and respect the practice of medicine. Our unique culture of Medical Leadership inspires our people to deliver superior healthcare outcomes for both doctors and patients.
Medical Leadership describes our management philosophy of placing the wellbeing of our patients above all other considerations, and respectfully and collegially supporting healthcare professions in the pursuit of medical excellence. We acknowledge the trust that clinicians place in us and strive to mirror their commitment to medical excellence in everything we do.
With a focus on Medical Leadership, we aim to ensure that every person who is part of Sonic Healthcare UK understands how vitally important their role is in the delivery of high quality medical services to each and every patient. As Medical Leaders, we are an integral member of a complex healthcare community to whom we have a professional obligation to support and serve. A core tenet of Medical Leadership is our insistence that all our healthcare businesses have strong clinical governance, leadership and management. Our leaders are doctors or experienced healthcare professionals who are empowered to act in the best interests of clinicians and patients at all levels of our organisation.
Medical Leadership also keeps us focused on responding to the needs of our customers – whether they be individual referring physicians, hospitals, governments or patients – to provide the most efficient, personalised service possible.
Medical Leadership has always been enshrined in Sonic's corporate culture. It reflects our understanding that medicine is a profession rather than a business, and is responsible for our continued global success.
Our core values
Sonic's Core Values were created by our staff more than 20 years ago, and act as guiding principles for how we conduct ourselves as an organisation.
Our Core Values set the standard for the collegiate and supportive way in which we behave towards one another, as well as the professionalism with which we conduct ourselves in our day-to-day duties. Individually, our Core Values articulate our commitment to medical excellence. Collectively, they empower our people to deliver exceptional medical services to doctors and patients. 
Since their inception, Sonic's Core Values have been embraced by Sonic Healthcare staff around the world as a unifying code of conduct. 
Commit to service excellence
To willingly serve all those with whom we deal, with unsurpassed excellence. 
Treat each other with respect and honesty
To grow a workplace where trust, team spirit and equity are an integral part of everything we do. 
Demonstrate responsibility and accountability
To set an example, to take ownership of each situation to the best of our ability and to seek help when needed. 
Be enthusiastic about continuous improvement
To never be complacent, to recognise limitations and opportunities for ourselves and processes and to learn through these. 
Maintain confidentiality
To keep all information pertaining to patients, as well as professional and commercial issues, in strict confidence. 
Sonic Corporate Responsibility Report 2021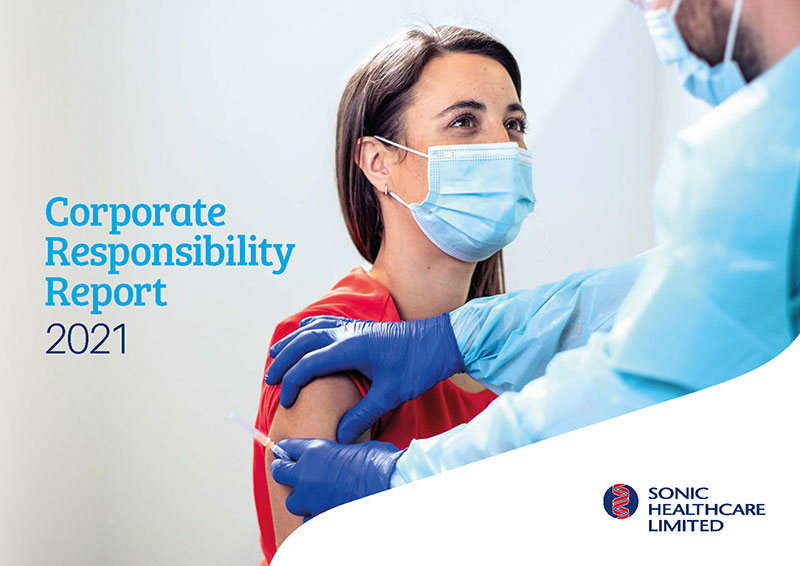 From our earliest inception, good citizenship has been an integral part of Sonic's corporate culture. 'Company conscience' and 'Respect for our people' are two of the five pillars of our Foundation Principles, and the commitment to these values extends from the Board of Directors through to our staff.
Our medical services touch the lives of millions of people either as patients, clinicians, employees, suppliers, investors or members of the communities that we serve. We strive to provide the best possible quality and service, and to deliver these as responsibly as we can.
Sonic Healthcare 2023 Sustainability Report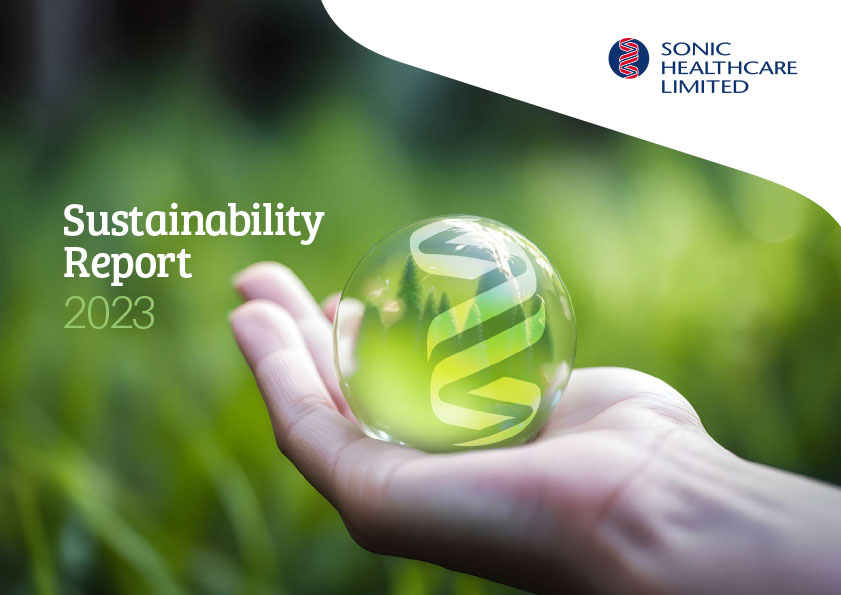 The Sonic Healthcare 2023 Sustainability Report highlights our commitment to sustainability and our work to achieve positive environmental, social and governance (ESG) outcomes.
Key additions to this year's report include our first (qualitative) Task Force for Climate-Related Financial Disclosures (TCFD) statement which details Sonic climate-related risks, a restatement of Scope 1 and 2 GHG emission disclosures, and our first-ever estimate of our global Scope 3 emissions.
Sonic Healthcare Foundation
Last year, Sonic Healthcare established a charitable foundation in an effort to provide funding for medically-based community projects and aid for disasters. Sonic Healthcare Foundation's principal activity is to utilise the organisation's healthcare experience, expertise, and staff talents to help promote and deliver improved health outcomes through the prevention, treatment, and control of disease.
Dr Colin Goldschmidt, Sonic Healthcare Chief Executive Officer and Managing Director, has issued an update on the Foundation announcing a major new partnership!