In his new role as Group Scientific Officer, Mike Gandy will be working alongside colleagues from across the organisation. Their aim is to pull together, identify and assess the suitability of the considerable array of new technological developments available across the diagnostic sector.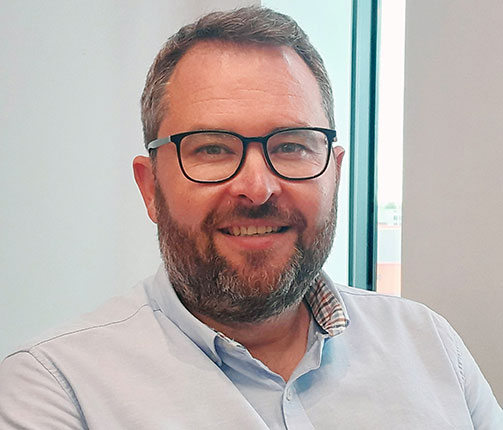 Mike says, "The diagnostic sector's recent focus has been on the drive for efficiency through large scale automation, the deployment and expansion of new genomic technology, the transition from analogue to digital pathology systems, and the drive to miniaturisation."
Greater systems interoperability between existing and newly deployed solutions is also key: while the tests themselves are critically important, they should never be considered in isolation. They require the right digital infrastructure that wraps around them ensuring effective deployment from point of order, through sample collection, laboratory testing, result delivery and clinical interpretation, through to frequently complex national dataset collections.
Collaborative working
Mike's scope is as wide as it is deep. The role calls for both collaboration and scientific leadership across the organisation.
"Specifically, it means working closely with our senior executives, scientific discipline and departmental leads, and our clinical teams. We'll be looking at new tests, new technologies and supporting improvements and evolution of our existing services. We'll also seek new opportunities across both the public and independent sectors."
He works closely with industry, pharma and academia and colleagues in Sonic Healthcare in the UK and globally to identify the most appropriate technologies for the UK operation.
Different regions and sectors have different, ever changing solutions
"For me - slightly selfishly, it's what fits best for the UK - but I always have an eye to linking with our global colleagues, particularly to leverage best commercial terms, to take on board any lessons learnt, and also appreciating that for some services we have an international client base."
Sonic Healthcare UK works closely with industry and academic institutions looking for opportunities for new diagnostics advancements from across the sector. There is certainly no shortage of new and evolving technologies in a post pandemic world.
However, there will always need to be a balance between clinical need and the added value of a test, and Mike will be working with colleagues in this area to bring scientific and commercial evaluation into the process earlier.
The regulatory aspect
The IVD regulations are changing and there have been particular challenges resulting from Brexit. Mike emphasises the need for the organisation to be mindful of how to continue to align within the UK's healthcare landscape, and ensure we are best positioned for future opportunities.
Digital pathology at Sonic Healthcare UK – the major step change underway
"Digital pathology is quite difficult to define: It means different things to different people - but one definition is it's the move from analogue microscopy to digital imaging."
This is not something new; Sonic Healthcare UK already deploys digital microscopy in Haematology, Immunology, Microbiology and Cytogenetics. However, we are on the cusp of seeing one of the largest digital pathology transformations within Cellular Pathology.
"We are part of a nationally supported initiative which, over the next 12-18 months, will see the conversion of our Cellular Pathology laboratories based at 60 Whitfield Street, Royal Free Hospital and Northwick Park Hospital, to digital hubs collectively generating approximately one million Cellular Pathology digital images per year."
This initiative is a key part of the national long-term target to improve cancer outcomes. Specifically, the move to digital imaging will support consultant cellular pathology colleagues by providing more workforce flexibility at a time when recruitment into this key clinical role is challenging. It also enables the seamless reviews of complex cases between experts, both within our region, across the UK and internationally.
The transition also lays the foundation for the future deployment of artificial intelligence systems that will provide a range of diagnostic support tools. For example, AI will support histopathologists and cytopathologists in areas such as biomarker qualification, through to AI decision support systems which in the future will support screening and augment diagnosis.
Pathway will report on progress in Cellular Pathology, and on the many exciting developments that Mike is looking at across other disciplines.