Spotlight on David Allen from HSL-Advanced Diagnostics (HSL-AD)
28/02/2022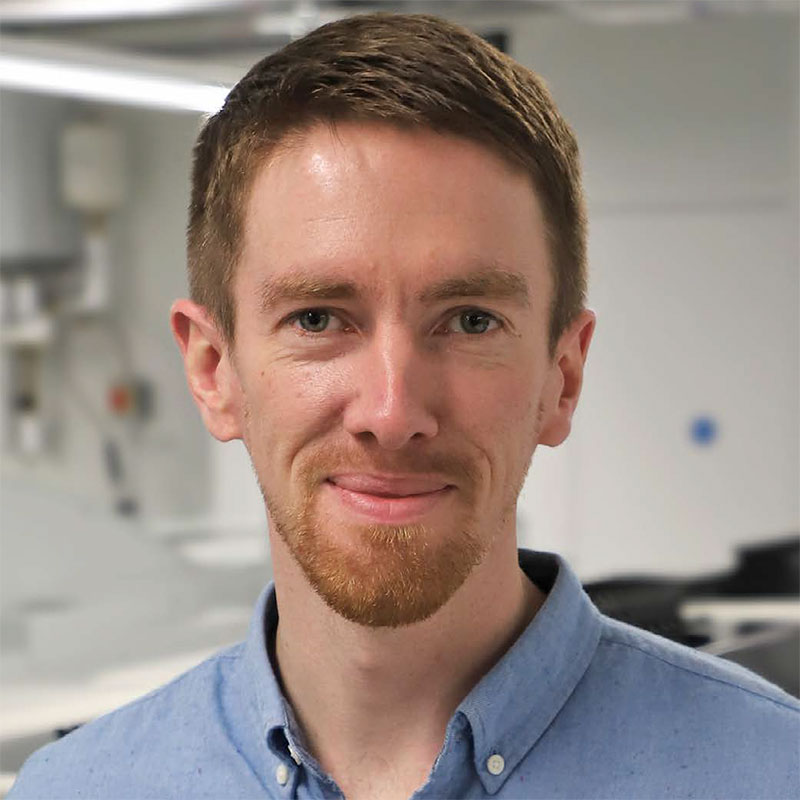 We catch up with David Allen, Head of Department and Operations Manager at HSL-Advanced Diagnostics (HSL-AD) Laboratory, 60 Whitfield Street, London.
Having studied Biomedical Science in Dublin, David Allen worked there as a medical scientist in clinical and research laboratories, specialising in cancer and histopathology. He joined UCL in 2013 as a Senior Biomedical Scientist, before progressing to Head of Department and Lead Biomedical Scientist. He moved with the department to HSL in 2018.
HSL-AD originally evolved out of the UCLH Department of Research Pathology. Today, its team of 38 scientific and administrative staff provide a leading service for immunohistochemistry and in-situ hybridisation, as one of the first large-scale providers in the country.
Its evolution was partly thanks to the development of its own network of laboratories that refer back to the department for their testing requirements. This, according to David, is what helps to maintain the laboratory's size and scope.
Size and scope, indeed: the team conducts an impressive 300 different IHC tests, where an equivalent department in a large hospital would operate at around half that number. In one year, they deal with 65,000 patients and process up to 260,000 immunohistochemistry tests.
The department also has its own specialist IHC, FISH and molecular reporting arm, reporting results on around 20,000 patients a year over a wide variety of tests, including over 8,500 FISH tests.

Move to Whitfield Street
The new site at Whitfield Street, where HSL-AD moved to in April 2020, helps the team to meet these demands:
"It's a state of the art laboratory: it's modern, clean, and everything's been designed with workflow in mind, whereas before we were making do, essentially. We were bursting at the seams and completely outgrew our old laboratory," says David.
Recent years have seen the team go through some big changes...
Between December 2018 and March 2020, they were operating in a temporary facility after UCL needed their space in the university for renovations. They moved into the new Whitfield Street site at the beginning of the pandemic, at a time when their workload inevitably dropped off (but only temporarily):
"It gave us a period of time to reflect on how we operate as a laboratory and allowed us to experiment with workflow and get ready for when the work got really busy in the second half of 2020, which it did. We were very conscious that how we functioned in the past may not have been suitable for the changes we wanted to make.
"We saw a major peak in October and November 2020, and were seeing huge volumes coming through. It has remained above average ever since. The team responded excellently and we were all very satisfied that the time invested in getting our new laboratory working was well spent."
Whitfield Street had been redeveloped to consolidate the Cellular Pathology Department, which also includes diagnostic cytology.

Training and development is a priority
The transfer to HSL afforded the team a sense of stability, ensuring that their important work could continue at a consistently high standard.
It has also facilitated a drive towards training and development, which David sees as 'one of the huge plus-points of the move'. This is something of a priority for David, and it's clearly going well:
"We've put a lot of trainees through the lab. Since we joined in 2018, we've actually transferred two of our staff to become qualified biomedical scientists. Now we have a group of five going through the same process, and another going through an apprenticeship.
"It's been a long term ambition for me personally that we drive a pipeline of new people through the labs so that we can grow a dedicated team of highly skilled scientists. "If people decide to leave us, they leave taking our history with them, and hopefully our ethos as well. That's been one of the drivers for me, and it's something that's turned out really well."

What's new?
A large study is currently underway at the laboratory, having transferred from UCLH to HSL-AD. The Optima trial looks at risk factors affecting Breast Cancer patients, aiming to determine whether they need chemotherapy, which itself has many adverse effects. The idea is that this trial could help avoid the potential harm of such a damaging form of treatment in cases where other options may be more suitable.
It's a huge project, with around 4,500 patients involved. Run out of UCL and through the Warwick University Clinical Trials Group, the trial is being supported by the National Institute of Health Research (NIHR), and HSL-AD is the centralised laboratory for the study in the UK.
David adds, "we have also been involved in consolidating the Further Work Team within the cellular pathology department and it has been great for the team to have a positive impact on the wider transformation our cellular pathology services are going through.
"Following that, the next major project will be the digitisation of our services, where we scan stained glass slides for reporting and archiving. This will transform how histopathology functions and potentially open up our services to an even wider audience."
HSL-Advanced Diagnostics represents another centre of excellence in Sonic Healthcare UK's portfolio.